As part of Monika G. Dorniak's interdisciplinary practice, the artist is working in the formats of workshops, lectures, exhibitions, etc., with the intention to connect a wide range of people from different backgrounds, and change the traditional idea of 'learning' as a collective. Her research laboratories, or workshops, have been held in a variety of international institutions, such as Tate Exchange in London. Her self-organised events, such as lectures, exhibitions, symposia, etc., have come to realisation in collaboration with cultural and academic institutions, mostly in Germany. For requests, feel free to write a message.





Deconstruction Is A Virtual Element Of Construction

2018 - ongoing

︎Theaterhaus Mitte (2018)
︎Arts Catalyst, Anti-University Festival (2018)
Laboratory and textile collection
Deconstruction as a Virtual Component of Construction
(2018) is an experimental research and textile collection containing physical and mental exploration. Its theme, the identification of self through community and dress, has previously been explored in a project in collaboration with performers in Berlin, where, in six sessions, the artist shared her phenomenological, psychological and sociopolitical research, discussing specific questions with the performers, who then expressed the research physically. The score was defined by the theoretical research and textile pieces or costumes which became the threads of conversation. Questions may include: Does a process of identifying others' action differ from a process of identifying an own(ed) action? How far can one forget self to be able to connect with another self? Under what conditions can fabric become dress, and vice versa?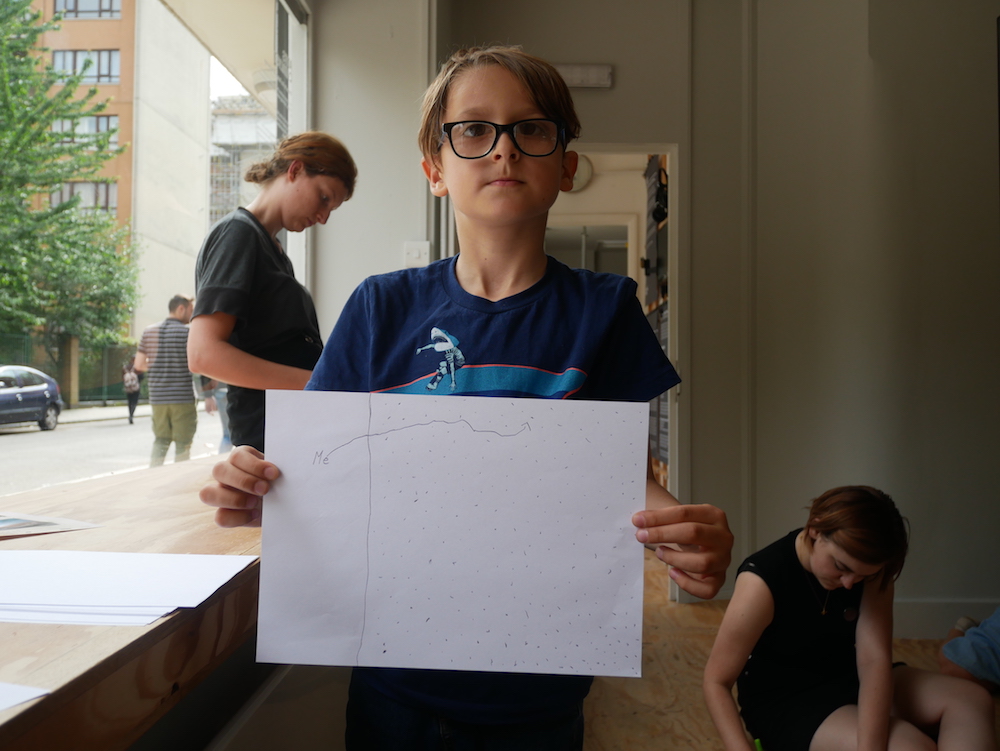 The Vivid Unknown (as part of Refugee Week Berlin)
2018




Exhibition and Symposium


The Vivid Unknown is part of Philip Glass's music for the film Naqoyqatsi, which means 'life as war' in the Hopi language. The exhibition reflects on the world in our Anthropocene era, in which the global market has become the major economic and cultural force on the planet; control of artificial systems encounters the organic world, itself undergoing extreme transformations, leading to social disharmony, and new movements. We have transitioned to hyper-mobile interactions and interweaving in digital space, while the physical settlements of marginalised groups are constantly disturbed. Past, present and prospective natural disasters caused by climate change and war force people to leave home and make precarious escapes into the unknown.

With works by Elisa Dierson, Monika Dorniak, Domenique Himmelsbach de Vries, Lingji Hon,Katja Marie Voigt, Valentyn Odnoviun, Felix Stumpf, Çağlar Tahiroğlu, Matteo Valerio, Raul Walch

︎ROSALUX (2018)︎Review, UAL (2018)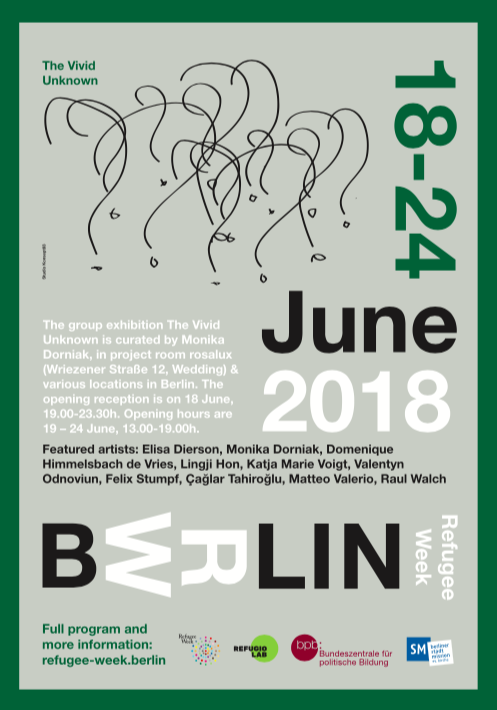 Collective Synchronisation

2015 - ongoing
Workshop and research laboratory

This workshop proposes an interdisciplinary spatial laboratory, which connects the medium of (performance) art with the spatial practices of the everyday life. The workshop is dedicated to develop an understanding of body rhythms and psychosomatics and relate it to the rhythms and flows of the environment. The participants can explore what a body can do in the immediate landscape.
City space is not a neutral ground in which our bodies move freely. It is a field of power relations charged with politics, imaginaries and ideologies that force us to adapt to it continuously, and renegotiate our positionality within it. Starting with a general theoretic introduction to (self-) perception, the workshops continues with movement techniques and uses the city as a stage. Regarding the body as a flexible and interactive organism the participants learn to work with principles of choreography in public space, creating sequences in solo or partner work. These movements are based on their own body rhythms and the rhythms of the city perceived around them. The partner work should strengthen the group by acknowledging similarities, instead of differences; thus a collective synchronisation shall occur. Digital imaging technology functions here as a tool for creative documentation and self reflection, and works as a contemporary archiving method.
The (re-)gaining of independence of the self and proliferation of space for new connection are central points for contemplation.
Reclaiming the alienated Self
2017
Dissertation, MA Art and Science, Central Saint Martins
Abstract:
The unpredictable shift from the natural world to the (digital) technological sphere confronts body and mind with a variety of new challenges. A lack of physical sensations, loss of identity and increasing self-awareness lead to isolation and alienation. Although neurological researchers are only beginning to understand the relation of mind and body, technological inventions are offered to the conditioned consumer who commits to alterations. Critical voices perceive the postdigital era as an awake nightmare that urgently requires models by which human being can live in balance with technology. Returning to past handworks and somatic practices, such as contemporary dance could treat man- made damages, yet reclaiming the self demands an examination of man-made failure and a collective solution. My work involves the interdisciplinary collaboration with contemporary dancers and handworkers, where I analyse the importance of habitual mind-, body- and groupwork through workshops and personal experiences. Furthermore I am holding ongoing interviews with professionals with different backgrounds, and undertook internships in neuroscience and fashion design. Secondary research on self and culture in psychology and philosophy function as sources of information and enrichment of vocabulary. This study is part of an ongoing research project analysing the changes of mind and body through technological alterations and sociological misconceptions (racism and sexism). In analysing these changes from a female perspective, and through interdisciplinary collaboration, this research will increase an understanding of underrepresented areas. Simultaneously it will be used for workshops in the arts to provide independent knowledge on Self and Culture, and to produce works that engage the viewer to reflect on the above issues.




Anthropocentric Choreography
2014-2015
︎Foreign Affairs Festival,
Haus der Berliner Festspiele (2017)
Workshop and interdisciplinary laboratory
Anthropocentric Choreography is an interdisciplinary laboratory, which connects the medium of art with the analytic reflection of Zeitgeist politics.
Whether its the natural or the built-architectural environment - present circumstances force us to adapt continiously. Regarding the body as a flexible and interactive organism the participants learn to work with principles of choreography in public space. Starting with a general theoretic introduction to (self-) perception we continue with movement technics using the city landscape as a playground and stage. Technology functions here as a tool for creative expression and quick self reflection -
we are researching the balance between adapting to landscape and standing out of it.

The collaboration between dancer Nelly Hakkarainen and artist Monika Dorniak is fusing their two research pools, and thereby creates a more-in-depth-program. This includes Nellys interest in site specific choreography and Monikas interest in the science of the human anatomy and contemporary architecture.

The workshop invites participants from different disciplines to reflect upon the excessive usage of technology and life in urban space. The practical part of the workshop is connected with theoretic insight from our research pool, and makes it possible to actively discuss about the thematics.
There are no previous experiences in dance or choreography needed- instead we welcome different experiences and skills to create a versatile scenario.

Circles and Cues
2014-2015

︎

Rory Pilgrim - sic! Raum für Kunst (2014)
︎TAT-werk (2014)

The workshop Circles and Cues connects the Scientific and Artistic by understanding and experiencing our personal cognition & perception. During two workshop days we will combine moving & observing with capturing & reflecting.
In the first part of the workshop I will give a basic introduction to the human cognition & perception. This knowledge is based on current scientific findings in neuro-psychology, psychology and mind-body-awareness. Understanding what e.g. Metacognition, Neuroaesthetics, Empathy scientifically mean, will lead us to the second part.
Secondly we go deeper into the artistic work. By projecting scientific matter into space, neurological and anatomical networks will become our inspiration for choreographical output. The maps of the body are leading the body itself to create movement material. We will work in solo and group settings.

For the workshop we will use mind & body, maps and science books, camera & paper, and obligatory the computer & mobile devices. The usage of various media allows us to deepen the experiences and extend the workshop above the time-being. A.o. we are going to use the website www.dance-tech.net to create an archive of the workshops content (scientific papers, links, and video material of the course).


We Convert Our Mind To Creativity
2011 - 2013
Interdisciplinary Laboratory, Exhibitions and Symposium

In 2011 M. G. Dorniak initiated the self-organised group We Convert Our Mind to Creativity, with the aim to connect people from various backgrounds to talk about topics that adress all people, such as the human cognition, the anthropocene era, and sociology. While the group had no specific location, it worked in various locations, and throughout the web.
The first project was a festival and exhibition uniting artists and scientists with the audience to exchange, experience new knowledge, new technics on the universal topic of >Human Cognition<.

With works by: Anthonis Antonellis, Dominik Bubel, Ting Cheng and Virginia Francia, Elisa Damm, Darko Dragicevic, Martin Fell, Rudolf Grillborzer, Demian Kern, Christine Sun Kim, Frederic Kokott, Ginna Lee, Tómas Lemarquis, Matthias Neumann, Thilo Seidel, Marielena Stark, Rosemarie Stuffer, Jetske Visser, Lukasz Wierzbowski

Symposium: Dr. Karl F Wender, Jasmin Sinha, Matthias Neumann
Moderation: Monika Dorniak

The second project was a symposium, expanding the application of design and the potential to abstract or heighten everyday-interactions. Selected artists presented interdisciplinary performances and gave the audience a new perspective by participating interactively.


With: Biomimicry Germany ( Dr. Prateep Beed & Dr. Arndt Pechstein), Dr. Verena Kuni, Florian Weil, Dr. Manfred Hild, Florinn Bareth, Monika Dorniak and Sarah Hermanutz, The Plant Orchestra (Ruth Waldeyer, Christina Ertl Shirley & Melodie Fenez), Margot Charbonnier, KOBAKANT's "Perfect Human" featuring Nelly Hakkarainen, MirrorTal, Adachi Tomomi & Audrey Chen, Peter Kirn

︎︎Festival of Art and Science (2012), Trier
︎︎
Synthetic Metamorphosis (2013), Tresor, Berlin



All images and texts © 2009-2019 Monika Gabriela Dorniak.

All rights reserved.